I found today's "I heart Daily" post pretty interesting. I have a whole bunch of "The Little Sister" books, and then "The Babysitters Club" books, and then, my Mom gave me her "Sweet Valley High" books to read. The babysitter and sweet valley high books are older books, but yet they were still so popular, that kids are still reading them! I like the "Sweet Valley High" books! How do you think that series like these relate to our current teen books? How are they different? Do you enjoy reading any of these series?

P.S. if you want to read any of "The Babysitters Club" books and don't have them, I have a whole bunch on my bookmooch account if you want to take a look! Bookmooch id: PoloPony and feel free to friend me!

"Blogs About Books: Re-reading The Classics
May 15, 2009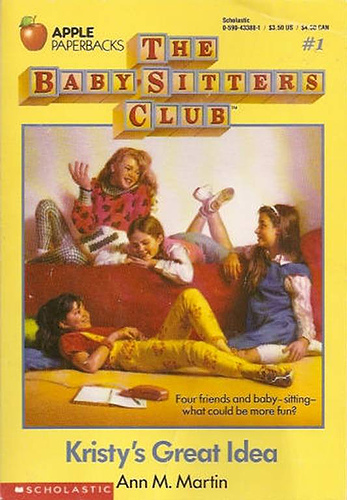 Before the success of fashiony, rich kid books like Gossip Girl, The A-List, and The Clique, things were a bit more wholesome with popular series like The Baby-Sitters Club (I. Was. Obsessed.) and Sweet Valley High, that were about...well, baby-sitting and high school.

If you haven't the time to start reading all 131 BSC books (not including the Super Special, Mystery or Best Friends Forever series) or 181 SVH books (not including the Junior High, Senior Year or University series), we suggest taking a gander at these blogs dedicated to re-reading our favorites from a more grown-up, and hilarious, perspective.

Claudia's Room
http://claudiasroom.blogspot.com
Every meeting of the BSC happened in Claudia Kishi's room, which is why it's such an appropriate title for this blog where the writer revisits her "awkward(est) years, one Baby-Sitters Club book at a time." Believe it or not, the BSC books were so goodie two shoes that the biggest dramas revolved around re-scheduling meetings, someone telling a lie or Stacey (the diabetic baby-sitter) forgetting to take her insulin. Blair Waldorf and Serena van der Woosen could have used friends like these.

The Dairi Burger
http://thedairiburger.wordpress.com
Take a set of identical twin girls, make one smart and the other flirty, and there is the basis for all Sweet Valley High books! It's quite absurd that hundreds of books were written about Elizabeth and Jessica Wakefield (in retrospect, they weren't really that interesting) but they sure did build a mini-empire. The author of the Dairi Burger says: "My goal is to reread the entire series to relive my tween years, and also to get really angry at how SVH gave me a false and misguided view of high school life. And life in general. In fact, I blame all my insecurities, problems and worries on these books." Hysterical (and so very true). Damn you, Wakefields!

Twilight Guy
http://www.twilightguy.com
Last but not least, we have something you may be more familiar with: Twilight (you know, that book about the hot vampire). Twilight Guy is Kaleb, a 20-year-old college student who is reading the Stephenie Meyer saga and documenting his findings. He says: "I may be one of the first guys to read Twilight and actually admit it. But I'm only doing it as research and not because I'm curious. At least, that is my alibi." For a completely different perspective on the Twilight saga (as in, he won't be swooning over every little thing Edward does or says), this blog is worth checking out instead of reading New Moon for the umpteenth time.

"